CLEVR HELP DESK SERVICE LEVEL AGREEMENT
METHOD OF CONTACT
The helpdesk acts as a central point of contact for all support issues. This includes issues related to system configuration, consultation, troubleshooting, feature enhancements, bugs/defects and triage. Support requests may be submitted via email or phone.
Email: support@clevr.ca
Phone: (613) 966-6806
HOURS OF OPERATION
Regular business hours are 8:00 a.m. to 6:30 p.m. (EST) Monday to Friday. Exceptions may be made for closures due to holidays, administration, or inclement weather.

HELP DESK RESPONSIBILITY
We will use call tracking software, call logs and email transactions to maintain records of incoming requests received. When receiving a request by telephone the Help Desk (Support Specialist) team member will attempt to determine the nature of the problem, create a service ticket, and refer the the query to the appropriate Support Specialist or staff member. All requests will be handled according to the Priorities and Response Times statement below; all requests will receive an initial response the same business day the request was received.
PRIORITIES AND RESPONSE TIMES
The Help Desk will use the following guidelines in handling requests and will make reasonable attempts to respond and resolve all requests within the time frame allotted. Actual response and resolution times may vary depending on the volume of requests at any given time. If a request cannot be handled within the allotted timeframe the customer will be notified and provided with an estimated time for completion.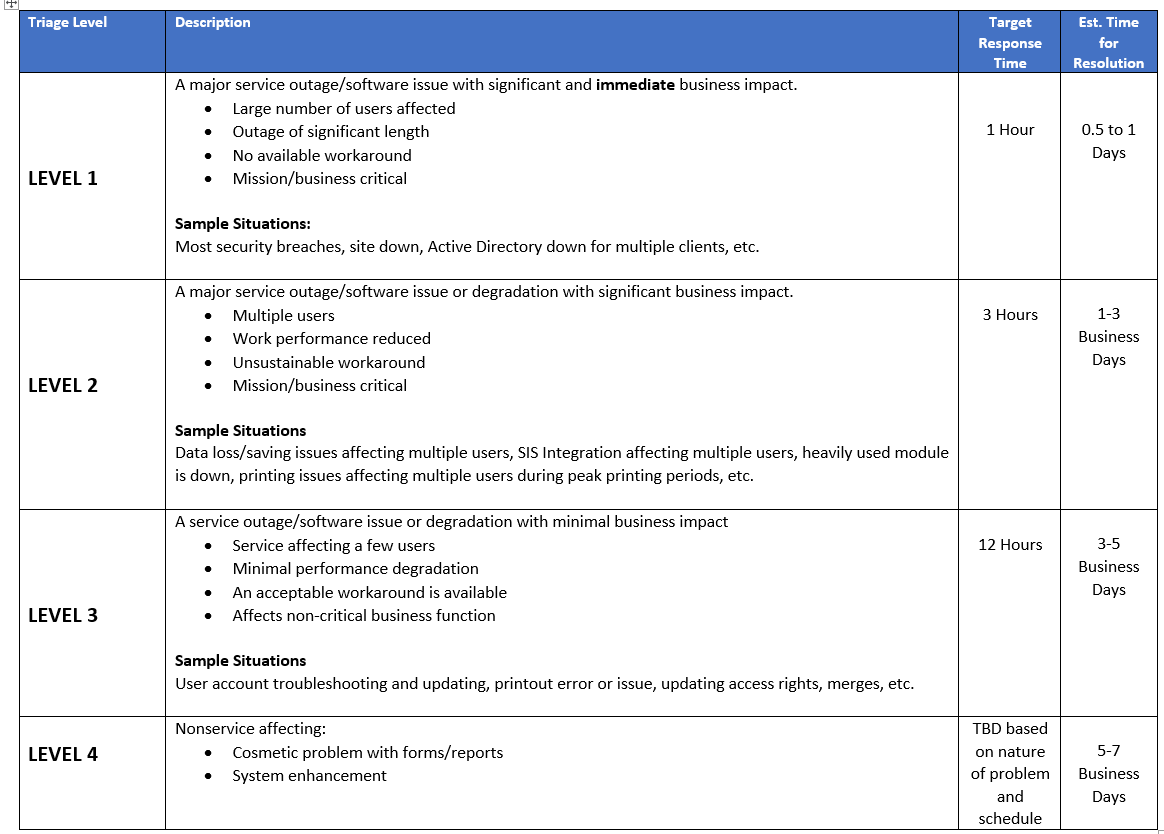 *Due to the wide diversity of problems that can occur, and the methods needed to resolve them, resolution times may vary. These are used as a general guideline.